Tech for Good Spotlight: TOPOLYTICS
Topolytics is a data aggregation and analytics business that is making the world's waste visible, verifiable and valuable. It helps waste producers and recyclers to drive resource and cost efficiencies, to trace the movement of waste and measure their impact, whilst validating performance and improving the quality and reliability of ESG and carbon reporting.
"Our mission is to be the leading waste and resources analytics business for organisations that generate waste through their operations and products, the industry that is moving and processing this material, investors and government (local, regional or national)."
Dr Michael Groves, CEO of Topolytics
What problem are you solving?
The World Bank estimates that waste generated in urban areas will total 3.4billion tonnes per annum by 2040.
Currently, more than 60% of this waste is sent to landfill and more than 61% of the world's population do not have access to recycling infrastructure – creating a significant economic loss, social problem and environmental danger.
At the same time, the trillion dollar plus industry that manages and processes this material is trying to modernise in the face of greater demands for recycling and a shift towards the circular economy – where waste is designed out of production systems.
The waste system is incredibly complex, material is moved locally, nationally and internationally and the industry business model does not promote high quality data generation and transparency. This confused picture is an acknowledged problem globally.
After completing a PhD in satellite remote sensing I was asked by someone what I wanted to do next. I said it would be good to work in environmental consultancy. They thought about it for a moment and said, "Sonny, I would get yourself a proper job". Not sure if they were referring to 'environmental' or 'consultancy', but I have been ignoring their advice ever since. 
After cutting my teeth in environmental consultancy, I moved to Jakarta where I pioneered some of the first sustainable forest management audits across Indonesia, Malaysia, Vietnam and Papua New Guinea. In this job, my 'office' would be a remote logging camp in the middle of Borneo, for example. On my days off, I would often head to the beach, but too often, I would encounter a tide line of plastic bottles, detritus and flip flops (never in pairs). This got me thinking – why did this material end up in these remote, pristine environments? 
On returning to the UK, I set up a sustainability reporting (we now call it ESG) consultancy, that I sold to a financial comms business in London. That was the genesis of Topolytics – answering the question for large companies 'what happens to my waste' – having done so they can then identify efficiencies, design interventions and produce higher quality ESG reports on waste and resource efficiency.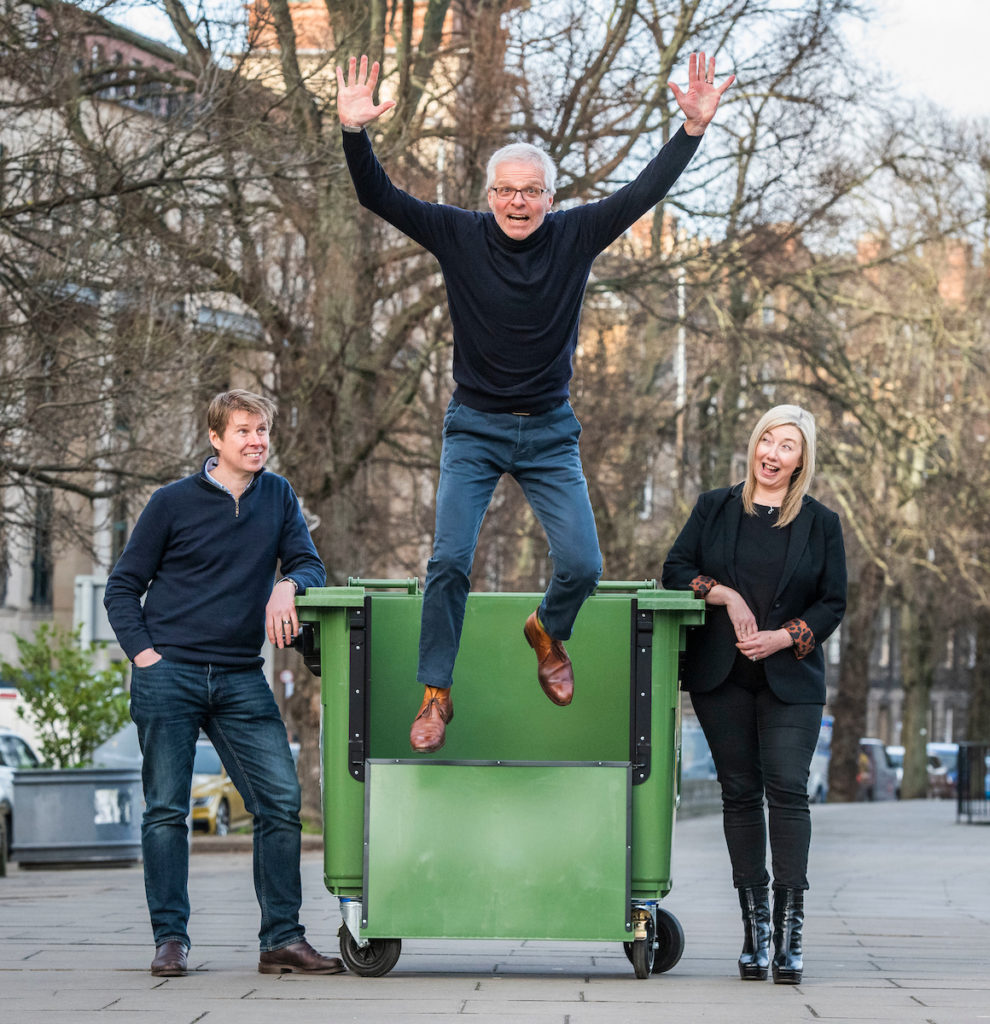 This is your life's work. How do you cultivate that passion in others?
We have a corporate wheelie bin with a door in the front – so everyone that joins or visits us can easily get in and have their photo taken. This supports our offer to customers – let Topolytics get inside those bins so that you don't have to.
It is not difficult to motivate the team, whether they be software engineers, data scientists, waste specialists, marketers or customer managers. Everyone has a 'story' about waste, so they buy into what we are doing. For those that have no prior knowledge of waste, recycling or circular economy, we run a 'Waste 101' process – which gives them a taste of the sector and the issues. Beyond that we try to be true to our values – being 'Resourceful, Responsive and Remarkable'.
What's next for Topolytics?
We secured our first external investment in 2022 after many years of bootstrapping the business through our own resources, commercial contracts and grants. The High Net Worth investors bring, yes, the money, but huge experience in the USA and Europe of either building and selling billion dollar financial data businesses or through investing in enterprise software businesses. So, they also bring a huge amount of relevant experience to help us scale. 
On that, we continue to recruit and are building out our team that looks after the customers and engages with their waste data, not to mention sales and marketing. We are also expanding our partner network and recently completed the Circulars Accelerator – a programme leading global innovators in the circular economy, run by the World Economic Forum and Accenture.
One of the best things about my role as Client Relationship Director for Tech and Fintech is getting to know these amazing, innovative, and game-changing technology companies that are coming out of Scotland. It's so rewarding to promote businesses working toward the greater good and using technology for a positive impact.
For more information about how we help companies build future-fit teams, please contact us on 07432 466 624 or email gareth@denholmassociates.com.